Comprised of Jennifer Ashley and Joel Simpson, Ashley & Simpson are quickly becoming folk scene favorites. This folk duo blends traditional songs and instrumentation along with beautiful vocal harmonies reminiscent of famous duos such as Ian & Silvia and The Everly Brothers. With their sophomore release "Off To Here Land," they have pushed the art of folk to a new sound with an all traditional track list that will delight fans new and old.  Both bringing a classical perspective to their duo, Jennifer Ashley & Joel Simpson have reached a new level with incorporating elements of jazz, popular music and other modern styles in their arrangements.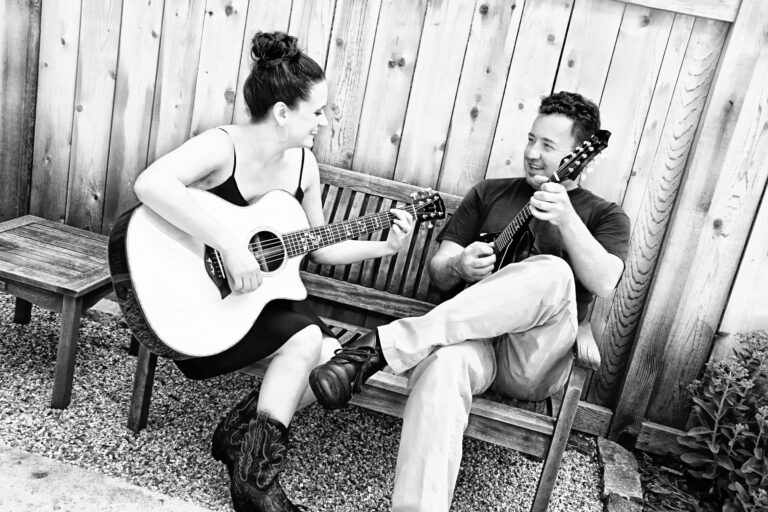 Singer/Songwriter Joel Simpson plays guitar, mandolin, dobro, banjo, and bass.  As a member of Lee Murdock's Blue Horizon band, he performed on Rich Warren's Folkstage, was a 2016 Folk Alliance Official Showcase artist, and appeared on Mr. Murdock's last two albums.  He is currently a member of The Chancey Brothers, Chicago's favorite Irish band, and released his first solo album "Irish Boy's Dream" in February 2018.  Singer/Songwriter Jennifer Ashley's first instrument is piano, but also plays guitar and dabbles in tenor banjo.  Although a lifelong musician, Jennifer is newer to the folk scene.  
They announced their arrival to the folk scene in October 2017 with the release of their debut album, "Winnie," an epic love story unfolding song by song, chronicling the journey of two kids in love from Smalltown, USA.  Since forming in 2016, Ashley & Simpson have opened for 5 time Grammy nominated blue-grass artists "Dailey & Vincent," Grammy nominated artist Dave Rudolf, and for gold-record artist Michael Gurley (dada, Butterfly Jones, and Kiefer Sutherland Band).  They have appeared on Lilli Kuzma's Folk Festival on Chicago's WDCB, as well as Chicago's Windy City Irish Radio WCIR. The duo appeared at the Fox Valley Folk Music and Storytelling Festival in September 2018 as part of the Two Way Street Coffee House stage . In October 2018, Ashley & Simpson were selected to perform in the DJ Showcase at Folk Alliance Region Midwest (FARM).  They attended North East Region Folk Alliance (NERFA) In 2018 and 2019, as well as Folk Alliance International 2019 in Montreal.
On February 1, 2019, "Off To Here Land" was released and Jennifer and Joel had the honor to have their release show at the legendary Two Way Street Coffee House in Downers Grove, Illinois.  In its debut month, "Off To Here Land" was #7 TOP ALBUM on the Folk Radio Charts, and Ashley & Simpson earned the distinction of #9 TOP ARTIST for the month.
Ashley & Simpson's third album, "Hello, Mrs. Sun," will feature all original songs and is in the final stages of production and is slated for an early 2023 release. In addition to Ashley & Simpson, the partners operate an independent record label called Randomosity Records located in Downers Grove, IL where they record, produce and teach. Joel and Jennifer were named Directors of the Two Way Street Coffee House in September 2020. The pair also enjoy volunteering at local folk festivals.